Summer Rush Game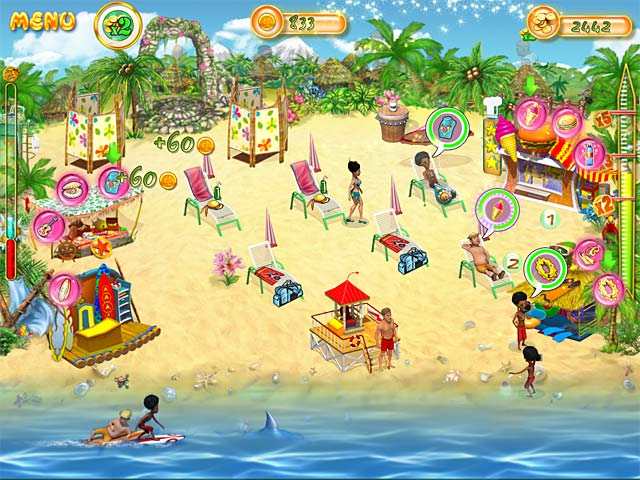 Overview of Summer Rush
Yesterday yet another beach owner disappeared. This is the fourth missing person report recently. The dangerous crook runs away rapidly after he committed much high crime. In order to stop his crime, the polices are trying their best to track down and arrest him. But the place where the crook hidden himself becomes the serious question for local police. Today they received a message says that the kidnapper is hiding in a beautiful beach and he is planning to kill the next beach owner! The local learned that these beach owners have been terrified for a long-time and have been receiving anonymous letters threatening to destroy them if they don't leave their bussiness. The letters were planted by different people. So the police decided to dispatch an undercover to catch the atrocious criminal as the role of the owner of the beach. The undercover will use her management talents to manage the beach bussiness and try to gain the trust of everyone on the island. Other polices will be nearby to stand ready for assistance. It is a dangerous mission and the agent should have enough courage anf intelligence to fight against the kidnapper. The agent must prepare to deal properly with all kinds of complicated situations or people in any case.
It is a fast-paced gameplay with exciting storyline. Go deep undercover as the owner of a beautiful beach business in
Summer Rush
if you want to protect the safety of the island. You should click on clients to invite local people onto your beach to consume so that you can earn enough money to continue your mission. In the process of your mission you should click on the highlighted area to improve skills and improve your skills and decorations to score more experience points. Everybody in the island has the suspicion of crime so you should keep high vigilance to everyone you invited. The island is an attractive place that has fresh air, golden beach, dense forests, and deep blue sea. You should pay more attention to the violent whales in case of the visitors are attacked by them.
Your mission is to organize the beach bussiness successfully to make the kidnapper give himself away as soon as possible. Many clues and hints will gave you to complete the mission in time. Summer is a season full of passion and vitality. Let's take part in the
Summer Rush
to catch the criminal and enjoy the cool summer on the beautiful beach! [Release date: Jul 14, 2011][2829]
Reviews of Summer Rush
More Time management Games