Lost Souls: Enchanted Paintings Game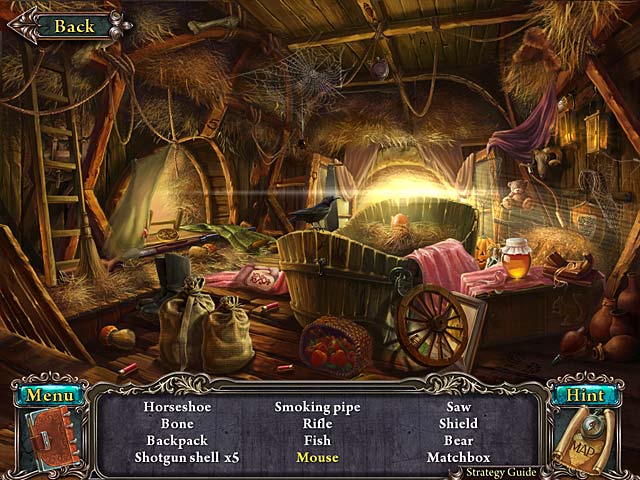 Overview of Lost Souls: Enchanted Paintings
Lost Souls: Enchanted Paintings
is an incredible game play and it tells a mysterious and terrible story. Bella, the leading role of
Lost Souls: Enchanted Paintings
is going to explore a mysterious world. It will be a challenging adventure and it will be filled with obstacles and difficulties. Several days ago, a stormy night, Bella and her son stayed at home and they planed to see grandmother. Suddenly, the door bell rang. The boy opened the door and found a mysterious package with no return address appears on their doorstep. It was a mysterious painting with an unknown glamorous castle in the package. The boy was very glad to see the painting and he required put the painting on his room. Bella had a strange foreboding that she'd face something badly but she didn't know what should she do. Just as expected, at that midnight, Bella was awakened by the sound of screams. She rushed into her son's room and she learnt that her son was disappeared, what is more strange was that the painting hung on the wall was instead of her son's picture. Bella didn't know what was happened but she knew that it must be associated with the strange painting. She phoned the FBI and hoped they will find her missing son as quickly as possible and finf out the truth.
Several months later, the FBI and the police have looked everywhere, but they can't find any trace of her son. Bella was extremely worried and she didn't know what to do. However, a sorceress appeared and she told Bella she can see her son. She said that her son fell into the trap of a monstrous creature, besides, no one knows how to rescue the boy except her. And now Bella thinks that it is her only hope. The sorceress can put Bella on the path to finding her son. But whether or not Bella will return depends on herself and her alone. Bella has no time to waste and she's ready for anything. Bella turns to forces beyond our world to find her missing son in
Lost Souls: Enchanted Paintings
. Do you want to know what will be happened in
Lost Souls: Enchanted Paintings
? Are you interested in this unique adventure in
Lost Souls: Enchanted Paintings
? And do you want to help Bella to rescue her son and return quickly?
Lost Souls: Enchanted Paintings
is an incredible game play with amazing locations, wonderful wallpapers and grapping storyline. Dive into
Lost Souls: Enchanted Paintings
to find out the truth by using your Hidden Object Puzzle Adventure talents to explore this incredible game and save Bella's son! [Release date: Sep 29, 2011][2819]
Reviews of Lost Souls: Enchanted Paintings
More Puzzle Games